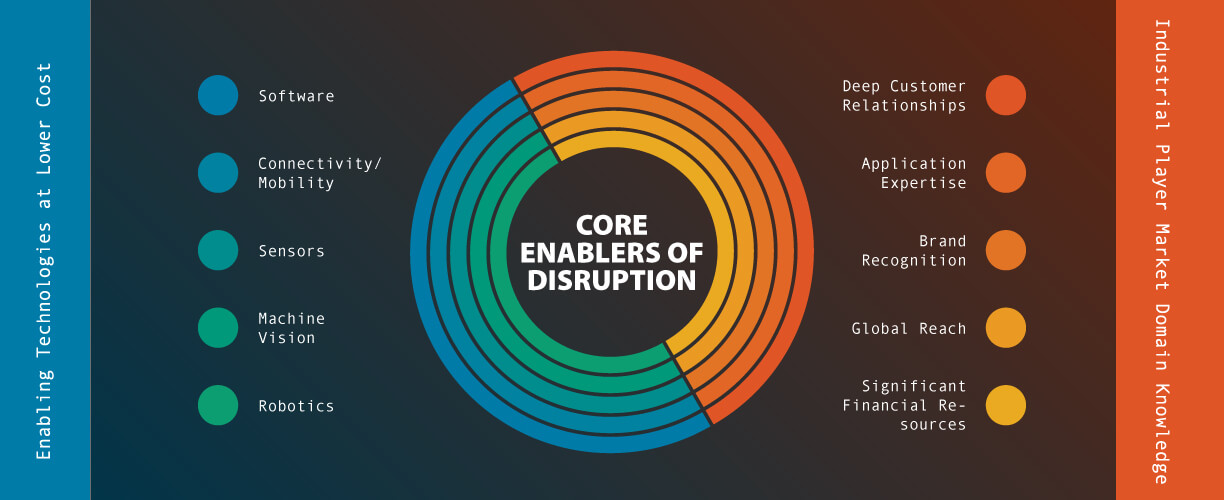 Technology: A Disruptive Force in Industrials
Embracing Transformational Technologies Is an Imperative and Opportunity for Global Industrial Companies


AUTHORS
JOEL COHEN
MANAGING DIRECTOR CO-HEAD,
BAIRD INDUSTRIAL INVESTMENT BANKING
JOE PACKEE
MANAGING DIRECTOR CO-HEAD,
BAIRD INDUSTRIAL INVESTMENT BANKING
Global industrial companies are being presented with enormous opportunities to embrace technology, and those that do are garnering premium valuations. With the alignment of a real need for efficiency, the accessibility of enabling technologies and existing capabilities to deploy these tools, many industrial companies are capable of tremendous growth. While embracing the digital world has its own set of challenges, there are many examples of industrial companies that are navigating these waters with great success.
PREMIUM VALUATIONS FOR TECHNOLOGY-RICH INDUSTRIAL COMPANIES
Valuations in both the M&A and public equity markets have materially increased in recent years. This trend is magnified for technology-rich industrial companies, which are being rewarded with substantial premiums. As an example, in the public equity market, industrial technology companies are trading at a ~600 bps EBITDA multiple premium to the broader industrial market, up from a typical premium of ~300 bps.
So why has the technology premium expanded so significantly? The fundamental factor in our view is the urgency to create or defend against the disruptive forces of technology. Big data, artificial intelligence, software-as-a-service, collaborative robotics, 3-D printing, autonomous vehicles and the industrial internet of things are a few of the technological trends fundamentally changing the industrial landscape. But the seismic shift is that innovation is coming at an alarming rate. A recent study by global consulting firm McKinsey & Company estimates that while it took a disruptive technology five years to reach scale (defined as $1 billion in revenue) in the recent past, such progress is now achievable in just one year. Investors are realizing that companies with greater focus on adopting and implementing new technologies organically or through acquisitions are better equipped to realize outsized benefits and growth.
THE ENVIRONMENT IS RIPE FOR TECHNOLOGY ADOPTION IN INDUSTRIAL MARKETS
Most industrial companies are facing multiple challenges that can be substantially mitigated through the adoption of the appropriate technology. Wage rates have been rising throughout the globe, and labor productivity has been slowing. Globalization has led to increased supply chain complexity, logistics uncertainty and intensified competition. Furthermore, customer requirements are rapidly evolving, and global regulations are proliferating. Technologies that help manufacturers reduce labor costs, increase speed and certainty to market, improve connectivity, optimize efficiency and comply with regulations are an imperative to compete in most industrial markets today.
AN ALIGNMENT OF FACTORS DRIVES SIGNIFICANT OPPORTUNITY FOR INDUSTRIAL COMPANIES
The need for change certainly exists in most industrial markets. But what is really exciting is that now the low-cost enabling technologies and the resources necessary to deploy them are also readily available. Enabling technologies such as software, connected machines, sensors, machine vision and robotics have broad-based applicability and can be procured at radically lower costs than just a few years ago. The cost of a robotic spot welder, for example, has tumbled by 27% from 2015 to 2016 and will fall another 23% by 2025, according to a recent study by the Boston Consulting Group. As a result, automation systems and robotics are being heavily deployed globally in many end-market applications, including pharmaceutical manufacturing, agricultural production, food manufacturing, warehousing and logistics. The advances in software and the advent of the industrial internet of things are enabling companies to analyze, utilize and often monetize large volumes of data in a variety of activities, including monitoring equipment, managing production, optimizing resource utilization and improving customer service.
Unlike pure technology startups, many industrial companies have a host of differentiated capabilities and resources that provide them with a tremendous advantage to deploy new technologies. The combination of deep customer relationships, application expertise, an established installed base, brand recognition, global access and financial resources are powerful tools in helping companies rapidly gain market penetration with new technologies. Many industrial companies are uniquely qualified to disrupt their markets but they need to act decisively before the benefits of their head start erode. Several high-profile industrial companies have been transforming their business models to harness disruptive technology. GE, as an example, has the ambition to more than double its software revenue to $15 billion by 2020, making it one of the largest software companies in the world. At Honeywell, half of its 11,000 engineers are focused on software development.
STEEP LEARNING CURVE IN ADAPTING TO THE NEW DIGITAL REALITY
This change is not organic or without friction for many industrial companies. Success is often dependent upon developing the expertise to evaluate technology and its trends and shifting the corporate culture to facilitate effective recruitment and the retention of scarce talent. It is also vital to understand the trade-offs between internal development and acquisition of technology, and, in the case of M&A, how to appropriately value technology targets. While not trivial to overcome these obstacles, the rewards for those industrial companies that successfully navigate this path are gigantic.